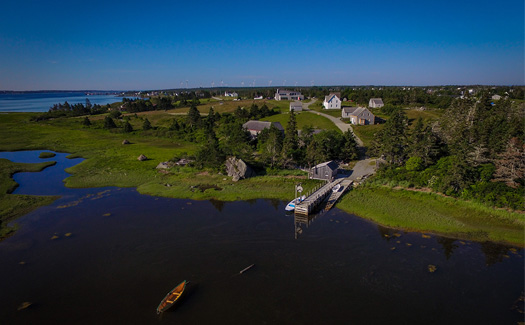 Welcome to L'Acadie
The Historic Acadian Village of Nova Scotia
Located on a beautiful 17 acre site that overlooks the Pubnico Harbour, the historic acadian Village of Nova Scotia invites you to step back in time to discover the heart, life, and culture of the Acadians in the early 1900s.
Immerse yourself into the thriving Acadian culture
Explore the breathtaking seaside views
Visit our gift shop to find souvenirs made by local artisans 
Taste delicious local cuisine in our café 

Saint Patrick's TRIVIA
with Charlene & Chris
Saturday, March 17 at 7pm
$10 pp. Teams of 8 max. Reservations please at 902 762-2530.
Prizes (Includes best costume!). NB This event will be in English.

 Our Identity  
The Historic Acadian Village of Nova Scotia invites you to learn about the Acadians of Nova Scotia and how this unique and colourful culture survived the Deportation of 1755 to continue to thrive to this day.
Hours of Operation
2018 Season
June 4th to September 28th
9:00am to 5:00pm (daily) 
Admission rates
Adults $8.00
Seniors (65 & over) $6.00
Students (student ID) $6.00
Students (6 to 17 yrs.) $3.00
Family $20.00
Group Rate (per person) $5.00
Children (5 yrs.& under) Free
Monday to Friday
11:30am to 3:00pm