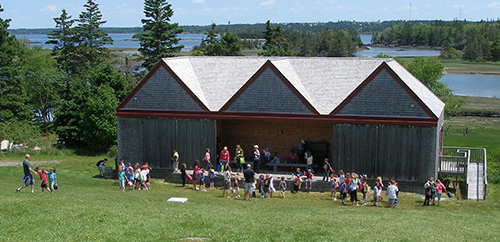 Tasks at the Village are fun!
What was life like for Acadian families in the early 1900s?
Find out for yourselves!
Our school trip program introduces students of all ages to the daily life of Acadians in the early 1900s. Children will learn about traditional arts and bygone chores like candle making, churning butter, old-fashioned laundry, baking cookies, etc., They will also try their hand at historical tasks such as stacking wood, helping in the garden, practicing carpentry, knot tying, lobster trap building and net mending.
The students will take part in four activities for 20 minutes each, as well as a site tour.
Activities are adaptable to all grade levels and are offered in both French and English.
Schedule: arrive at 10:00am and spend two hours and a half on our site (flexible).
Lunch time: bring your own or pre-order from our very own Café (special prices available). Picnic tables are also available on the Village site.
Fees
Fees are $3.50 per person, while teachers and/or chaperones as well as bus drivers are free. Parents attending that are not chaperones pay regular admission fees.
One chaperone for each group of around 8 students; fifteen students require two chaperones (determined according to the number of girls and boys).
Booking Information
Contact program director: Pierrette d'Entremont
Email:pierrette.dentremont@novascotia.ca
Telephone: (902)-762-2530 or toll-free:1-888-381-8999
Fax: (902)-762-2543